The Stuntwomn: The True Story of a Hollywood Heroine
by David L. Robb with Julie Ann Johnson
Xlibris, 2012
Reviewed by Rosemary Leeson, Diane Abato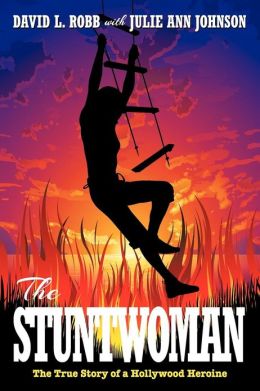 The Stuntwoman
The Stuntwoman is the story of Julie Ann Johnson's life as a twenty-year career stuntwoman who wanted nothing more from her employer, television producer Aaron Spelling, to address the rampant use of cocaine on the set. What she received in return was a loss of her career and reputation from an industry ruled by powerful men, intimidation and a code of silence. This bio/memoir takes the reader on a journey Ms. Johnson could not have imagined.
The book begins with the trial in 1987 and subsequent chapters weave Ms. Johnson's childhood, friendships and the personal cost for wanting to improve an industry and profession she loved and cared about deeply.
Ms. Johnson filed a sex discrimination suit against Aaron Spelling, a Hollywood power broker and the producer of the hit television series, Charlie's Angels. By all accounts, Ms. Johnson was at the peak of her career when she began working on the set of Charlie's Angels in 1978 until 1980. She was one of the best and the bravest in the business. Charlie's Angels' stunt coordinator and friend, Ronnie Rondell promoted her to stunt coordinator on the show. Ms. Johnson became the first female stunt coordinator on record. What she did not anticipate was a prevailing use of cocaine by her peers. "Bobby took the last of the coke.", was the beginning of a nightmare Ms. Johnson was trying to stop. It almost killed her and some were not so lucky.
Julie Ann Johnson, born in 1940 in Fullerton, California is the daughter of divorced parents, Virginia and Art Johnson and granddaughter of Baseball Hall of Fame player, Sam Crawford. Her love for sports was encouraged by her coach father and maternal grandfather. Both men played an important role in encouraging her to excel in sports. She learned early in kindergarten that being a girl who is really good in sports would not be welcomed. A boy in her class rammed his shoulder against her back because she kicked the football further than the boys could. "That'll teach you to kick better than us.", the boy said to her while the other boys laughed and walked away.
Ha Needham & Julie on Nickeledeon
Throughout the book between the trial, we get a glimpse into what it's like to be a woman working in a very macho and male dominated field. Sex and race discrimination and sexual harassment were a common occurence. When Ms. Johnson proceeded with her case, other stuntwomen were threatened with never working in Hollywood again if they testified on her behalf. When women wanted to join a stuntmen's association, the head of the association refused and threatened to shut down the organization if women became members. These are just a few examples of the challenges women faced in pursuing their profession.
During her time on the set of Charlie's Angels, when Ms. Johnson found no change in the flagrant use of cocaine after bringing it up the chain of command, she went directly to Mr. Spelling. She unwittingly put herself on the radar and was "replaced" as stunt coordinator. She soon learned she could no longer get work in Hollywood. Her friends and colleagues who knew her well told her they could not risk hiring or working with her for fear of reprisal. The word was out that anyone who hired Ms. Johnson would get fired. She broke the cole of silence within the industry and the stuntman's code of silence, which says, "Keep your mouth shut and you just might get work."
Ms. Johnson, was a highly sought after stuntwoman, who doubled for actresses like Farrah Fawcett, Eve Arden and Doris Day . Since she was "let go" from Charlie's Angels in 1980, the lack of work eventually led her to lose her home in 1983, and put her in depression. When it became painfully clear that no one dared hire her, Ms. Johnson made a day to day living setting up equipment for bands at $10 a night and scrambled for odd jobs wherever she could get it.
Intimidation became more direct when Ms. Johnson proceeded with her case. Her first attorney, Monty Mason was threatened by the "mafia" and he deliberately sabotaged her case so he would not be killed.
Spelling was known for being vindictive to employees who left or were fired. Larry Mollin, a top writer for Spelling who left his production, recalls, "He would go out of his way to prevent you from working. He went out of his way to harm people." The trial gives further details to his persona and an industry shrouded in secrecy and silence. The outcome of the trial has its' own twists and turns.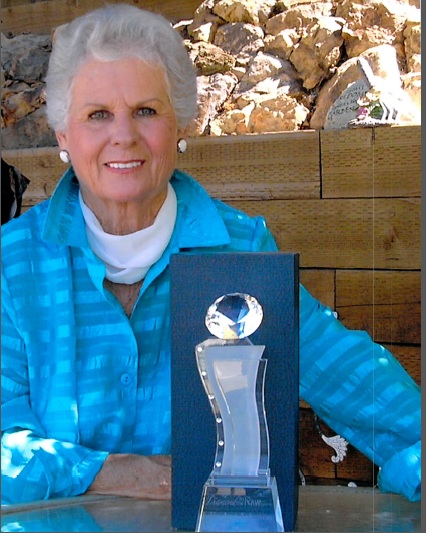 Julie, with Helen Gibson Award, 2010
The last part of the book is about Ms. Johnson after the trial and still struggling to make a living. She attempts to get her story made into a movie and is turned down by producers for fear of reprisal. At one of her most discouraged time, she meets Lilyan Chauvin, a French actress who's father was in the French Resistance during World War II. You'll have the read the rest to find out what transpired.
The narrative of the book reads a bit heavy at times and portions of the story is repetitive with a smidge more information than the previous reference. There are moments when the narrative stumbles on itself and the flow of the story slows down. For anyone interested in the inner workings of Hollywood in a raw state, it certainly gives a clear picture of how the industry works and the cost of speaking up.
Ms. Johnson's action is courageous and her story is compelling. The final section in the book is Ms. Johnson, "In Her Own Words", and she wants to set the record straight about what she did and shares some advice for those starting out in stunts. Her approach is both humble and dignified and it is obvious her love for the profession still shines bright.